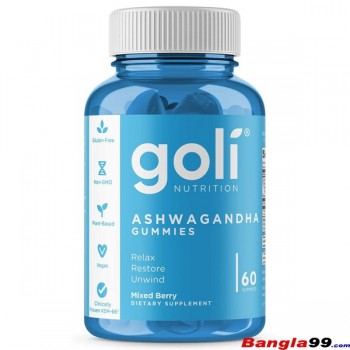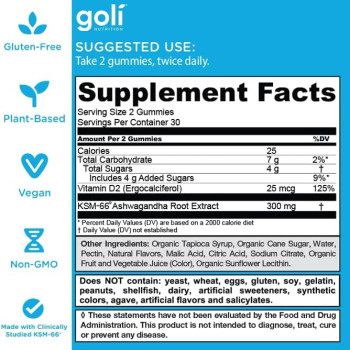 -17 % Out Of Stock


Goli Ashwagandha 60 Caps
Stock:

Out Of Stock

Model:

Goli Ashwagandha 60 Caps
Serving Size : 2 Cap
Serving Per Container : 30


Goli Ashwagandha & Vitamin D Gummy - 180 Count - Mixed Berry, KSM-66, Vegan, Plant Based, Non-GMO, Gluten-Free & Gelatin Free Relax. Restore. Unwind.


Plant-based, Clinically-proven, Vegan, Non-GMO, Gluten-free & Gelatin-free: Each bottle of Goli Ashwagandha contains 60 delicious vegan, non-gmo, gluten-free & gelatin free Ashwa gummies.

Clinically-studied KSM-66 Ashwagandha: KSM-66 Ashwagandha helps: Maintain Normal Cortisol Levels, Reduce Stress & Promote Relaxation, Lower Cortisol Levels which Helps Control Stress-Related Food Cravings, Promote Quality of Sleep, Support Physical Performance, Support Memory and Concentration and Maintain Quality of Life

Made in the USA: with select ingredients thoughtfully curated from around the world. All Goli products are made in allergen-free state of the art facilities in the United States to ensure that the quality of our product is the highest it can be.

Goli is a proud supporter of Vitamin Angels.