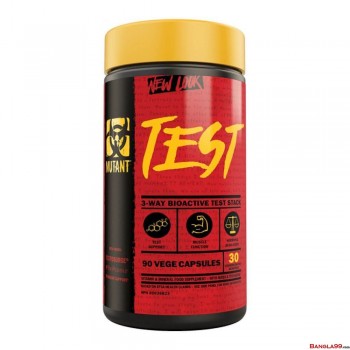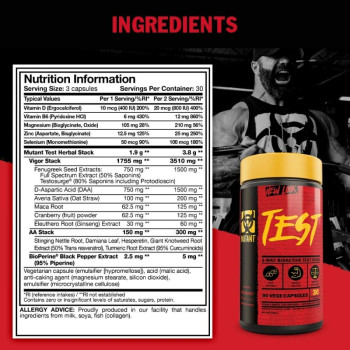 -14 % Out Of Stock


Mutant Test 90 Caps
Stock:

Out Of Stock

Model:

Mutant Test 90 Caps
Serving Size : 1 Cap
Serving Per Container : 30


MUTANT Test Natural Testosterone Booster with a Powerful Formula Developed to Support Testosterone Levels, Fast Pro-Caliber Formula, 90 Capsules


NATURAL TESTOSTERONE BOOSTER | Made with various herbs, such as fenugreek, maca, and black pepper extract, MUTANT TEST is a natural testosterone booster to get you healthy and fast results!

6 TARGETED INGREDIENTS | MUTANT TEST is made with a unique formula featuring targeted ingredients that help raise testosterone levels, fast - making it the quickest way to support your muscle gains.

CLINICALLY TESTED TESTOSURGE AND MACATEST | This proprietary, patent-pending, bioactive compound in MUTANT TEST works to raise and protect your testosterone levels, which can lead to improved muscle size and strength while on a proper diet and training plan.

PRO-CALIBER FORMULA | No more waiting days, weeks, or even months to experience test support, with the MUTANT pro-caliber formula, you may be able to improve your testosterone levels faster than using nothing at all.