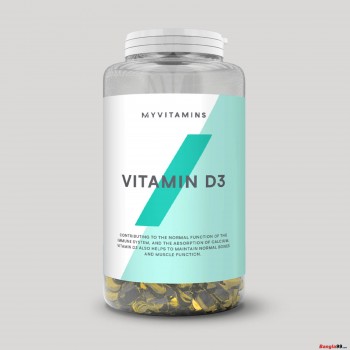 -43 % Out Of Stock
MyProtein Vitamin D3 180cap
Stock:

Out Of Stock

Model:

MyProtein Vitamin D3 180cap

MyProtein
MyProtein Vitamin D3 180capsules
It's not always easy to get your daily requirement of vitamin D as it mainly comes from sun exposure, and isn't present in many foods. Our convenient softgel capsules are a weather-proof way to get all the great health benefits of vitamin D.
What is vitamin D3?
Vitamin D3 is a fat-soluble vitamin D called cholecalciferol, that's essential for maintaining healthy bones,3 muscles,1 supporting the immune system,2 and helping the body absorb calcium5 — which helps to support normal muscle function.1
What foods contain vitamin D3?
Your body can make vitamin D, but this comes from exposure to sunlight — that's why it's known as the sunshine vitamin.
You can find vitamin D3 in small traces in foods like oily fish, egg yolks, and fortified food — but most people don't get enough in their everyday diet. That's where we come in.