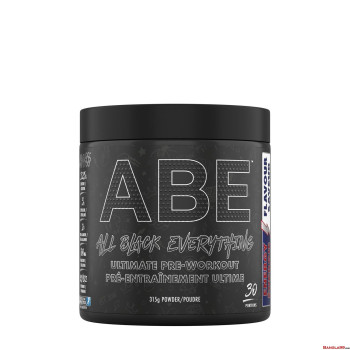 New -8 %
ABE Pre Workout By Applied Nutrition
Stock:

In Stock

Model:

ABE Pre Workout

Applied Nutrition
Applied Nutrition ABE Pre Workout - All Black Everything Pre Workout Powder, Energy & Physical Performance with Citrulline, Creatine, Beta Alanine (315g - 30 Servings)




INCREASE YOUR PHYSICAL PERFORMANCE: Applied Nutrition's ABE combines some of the most vital and extensively researched active ingredients. These ingredients are proven to boost physical performance, reduce the onset of fatigue during a workout and enhance focus during training.

HIGH IN B3 AND B12: All Black Everything pre-workout powder contains both vitamin B3 and vitamin B12. B3 has been shown to improve blood fat levels and B12 encourages normal red blood cell formulation. These, in combination with other vital nutrients, aid healthy living.

MANY DELICIOUS FLAVOURS: The ABE pre-workout powder comes in an array of different tasty flavours to help fuel your training session. From bubblegum to tropical flavours, there is something for everyone to make a scrumptious shake.

TESTED FOR ATHLETES: Every ingredient in this pre-workout powder is rigorously tested. This ensures that it has a high nutritional value and can be used by professional athletes. You are only putting the best in your body with ABE.

PERFECT PRE WORKOUT BOOST: Prepare and consume the ABE powder 15 minutes before training for an optimal session at the gym. This can improve your stamina and focus to help maintain good form to get the most from your workout.