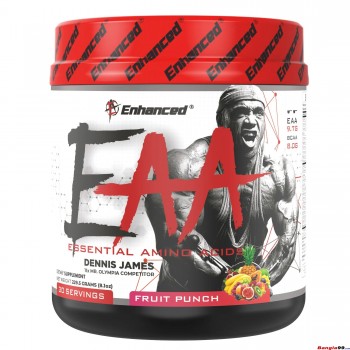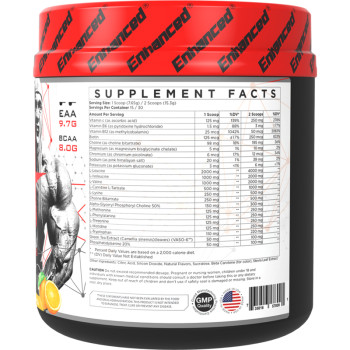 -20 % Out Of Stock


Enhanced EAA
Stock:

Out Of Stock

Model:

Enhanced EAA
Serving Size : 1
Serving Per Container : 30


Enhanced Labs - Dennis James EAA+ - BCAA & Essential Amino Acid Formula for Increased Mass, Recovery, Muscle Growth & Fuel (30 Servings)
MAXIMIZE MUSCLE GROWTH: Train like an Olympian! In order to capitalize on the increased muscle protein synthesis BCAAs provide, you must take BCAAs with EAA. That's what really separates EAA+ from other amino acid supplements. It contains BCAAs to signal muscle protein synthesis, plus all the EAAs so muscle tissue can actually be built. Maximise the growth and overall fuel of your muscles with our brand new EAA+ formula!

ULTIMATE RECOVERY: Recovery is just as important as weight training. In order to get the most out of your recovery process, what's more essential than EAA+? EAA+ eliminates muscle breakdown and reduces muscle soreness during your recovery time. Our new muscle recovery supplement creates a positive protein balance in your muscles that allows you to recover faster and build muscle more easily.

BCAA & EAA FORMULA: Ditch the generic BCAA only supplements! EAA+ combines EAAs and BCAAs to formulate the most optimal muscle fuel and recovery drink. Our new Amino Acid formula consists of 24 highly effective ingredients resulting in the best anabolic supplement on the market and the perfect fuel for building muscle all day long.

ENDORSED BY DENNIS JAMES: DJ Certified! Our new EAA+ supplement is the first fully endorsed and certified workout supplement by the great Dennis James. Enhanced Labs is also the only supplement brand in the world that is endorsed by Mr. Olympia 2020, Big Ramy. Dennis James, Big Ramy, and our entire company welcomes you to the Enhanced Team!