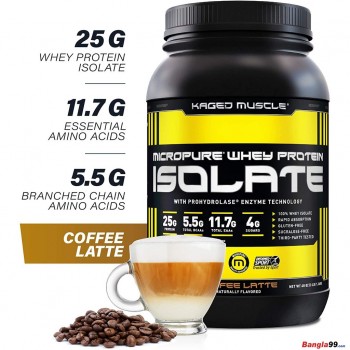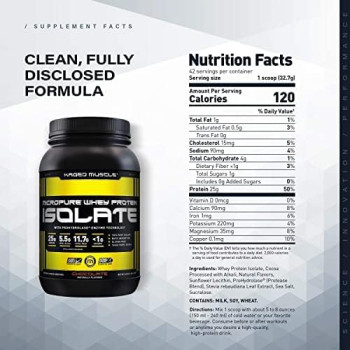 -3 % Out Of Stock



Kaged Muscle Whey Protein 3lbs
Stock:

Out Of Stock

Model:

Kaged Muscle Whey Protein 3lbs
Serving Size : 1 Scoop
Serving Per Container : 44


Kaged Muscle Whey Protein Powder, 100% Whey Protein Isolate for Post Workout Recovery, 3lbs


BUILD MORE MUSCLE: Whey Protein Isolate powder delivers 25g of whey protein per serving. With full-spectrum BCAAs and EAAs, this fast-acting protein shake saturates muscles with nutrients scientifically shown to help build rock-hard muscle.*

FORMULATED FOR ENHANCED ABSORPTION: Our advanced whey isolate protein powder utilizes ProHydrolase, a premium enzyme blend that enhances protein digestion, absorption and utilization, helping you get more out of every, single scoop.*

GOLD-STANDARD PROTEIN PURITY & QUALITY: Every batch is cold-processed, then purified using ultrafiltration technology to reduce fat, cholesterol and impurities. The result is a smooth, pure isolate protein that always mixes up rich and creamy.

TASTES LIKE A REAL MILKSHAKE: We use natural flavors to achieve a luscious milkshake taste, with no dyes, or artificial flavoring. The protein source is 100% whey protein isolate, with no amino spiking, protein blends, or concentrates.

THE KAGED MUSCLE DIFFERENCE: Made with some of the most premium and patented ingredients available, Kaged Muscle supplements are formulated for performance-minded men and women who not only want results, but also want clean, quality products.