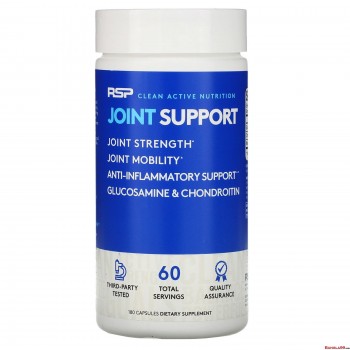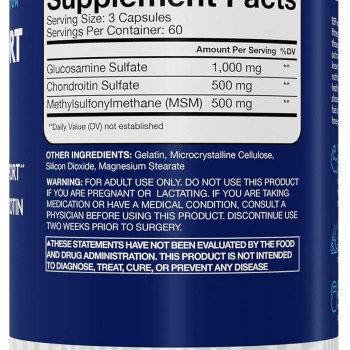 -14 % Out Of Stock

RSP Joint Support 180 cap
Stock:

Out Of Stock

Model:

RSP Joint Support 180 cap

Rsp Nutrition
Serving Size : 3 Cap
Serving Per Container : 60


RSP Joint Support – Complete Joint Support Supplement,Anti-Inflammatory & Antioxidant,Glucosamine,Chondroitin,& MSM, Supports Joint Strength & Flexibility for Men & Women


COMPLETE JOINT SUPPORT SUPPLEMENT - RSP Joint Support's ideal blend of 500mg of Chondroitin, 1g of Glucosamine, and 500mg of MSM is formulated for maximum effectiveness by helping to prevent collagen degradation and joint pain, relieve joint stiffness, and reduce inflammation in a convenient capsule form.

ANTI-INFLAMMATORY & ANTIOXIDANT SUPPORT - Methylsulfonylmethane (MSM), a key ingredient in Joint Support, is a sulfur molecule with both anti-inflammatory and antioxidant properties. In combination with Glucosamine and Chondroitin, this science-backed formula is ideal for maintaining joint comfort, reducing the symptoms of osteoarthritis, and aiding in the overall health of your hard-working joints.

SUPPORTS JOINT STRENGTH & FLEXIBILITY - Our formula is designed specifically to support healthy joint and cartilage function, promoting a healthier and more active lifestyle. Our combination of ingredients promotes natural joint strength and flexibility and aids in your body's natural inflammation response to exercise and physical stress.