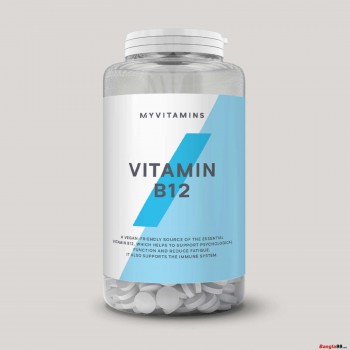 -44 % Out Of Stock
Vitamin B12 By myProtein 60 Tab
Stock:

Out Of Stock

Model:

Vitamin B12 60 Tab

MyProtein
Vitamin B12 By myProtein 60 Tab
Each of our tablets is packed with 1000µg of vitamin B12, which plays an important role in the function of your immune system,2 nervous system5 and metabolism,7,8 and is therefore essential for your general wellbeing.
What are the benefits of Vitamin B12?
Vitamin B12 is responsible for many important functions in the body including with the formation of red blood cells and the division of cells3,4 —making this an important addition to your diet.
Plus, it helps reduce everyday tiredness and fatigue,1 while supporting neurological and psychological functions,5,6 so you can stay on top of your game.
What are other sources of Vitamin B12?
Vitamin B12 is typically found in meat, fish, poultry, and dairy, with few plant-based sources for vegans — unless they've been specially fortified with synthetic B12, that's not derived from animals.
For anyone following a vegetarian diet, vitamin B12 is found naturally in dairy produce including milk, yoghurt, and cheese, which can make it easier to achieve your recommended daily levels.
But, if you're vegan then this can be more difficult. Only some foods such as plant milks, soy-based products, and breakfast cereals have been fortified to include synthetically sourced B12 — so that's where we come in.
Our super-convenient Vitamin B12 supplement is suitable for vegans and vegetarians, so it's never been easier to make sure you're topped up on this essential micronutrient.