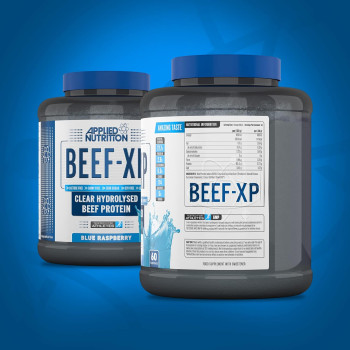 New -8 %


Beef XP By Applied Nutrition 1.8kg
Stock:

In Stock

Model:

Beef XP By Applied Nutrition 1.8kg

Applied Nutrition
Serving Size : 1 Scoop
Serving Per Container : 60


Applied Nutrition Beef XP - Clear Hydrolysed Beef Protein Isolate, Fruit Juice Style, Dairy Free Beef Protein Powder, Lactose Free, Zero Sugar, Low Fat, 1.8kg - 60 Servings


LACTOSE AND DAIRY-FREE: This beef protein is the ideal solution for anyone who wants to increase their protein intake but is lactose intolerant or does not want to ingest any dairy.

CONTRIBUTES TO THE GROWTH OF MUSCLES MASS: Beef protein specially formulated for its high protein content. With 27.7g of protein per serving, it assists the growth of muscle. Comprehensive amino acid profile provides all essential amino acids for healthy bodily functions.

PERFECT MIXING AND AMAZING TASTE: Beef protein comes in 7 different amazing flavours to suit taste preferences. When added to milk or water, it mixes well for a smooth and delicious drink.

LOW FAT AND ZERO SUGAR: The ideal protein supplement for people wanting to build lean muscle and maintain a low-fat intake. Zero sugar means it is perfect for people who want a low sugar or are in a keto diet.