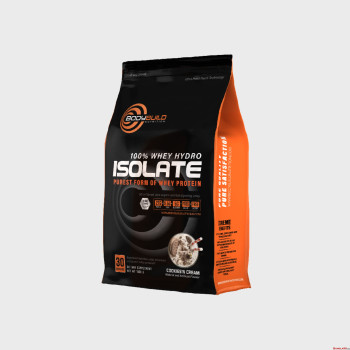 New -18 % Out Of Stock
BodyBuild Nutrition Whey Hydro Isolate 1kg
Stock:

Out Of Stock

Model:

BodyBuild Isolate 1kg
BodyBuild Nutrition Whey Protein Isolate 1kg (30servings) Maintaining Muscle, Muscle Recovery, Keep Fit.
1ST PLACE IN ALL CATEGORIES
The macros leave no room for doubt: 100% Whey Hydro Isolate takes the cake. Per serving, you get more protein and fewer fats and carbs. Plus, the hydrolyzed whey results in an even faster absorption of the amino acids contained in the protein. But we're not quite done yet!

The most sophisticated whey protein by BBN also contains added BCAAs, glutamine, vitamins, and an enzyme blend for enhanced digestion. And the cherry on top? Our team of amazingly talented food scientists have made no concessions in terms of flavor!

100% WHEY HYDRO ISOLATE
Contains a single-source protein composed entirely of hydrolysed whey protein isolates. Isolates are the purest form of whey protein with no excess fat or lactose. Hydrolysing the isolates breaks the larger proteins down into smaller pieces for quicker absorption. Each (109 calorie) shake delivers 27g of pure whey protein and 9.5g of naturally occurring and added BCAAs.

109Calories only
0.6g carbs
0g sugar
27g High Quality Pure Protein
9.5g BCAAs
5g Glutamine
NO GLUTEN
NO LACTOSE
Help you to keep fit your body.
Help you to cut fat and maintain muscle.
Help you to increase lean muscle.
Faster recovery