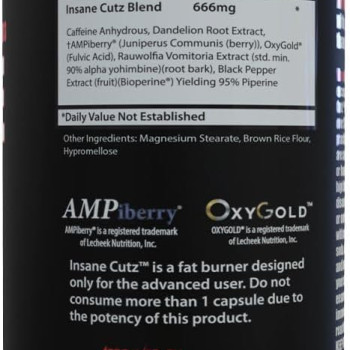 -17 % Out Of Stock


Insane Cutz 45 Caps
Stock:

Out Of Stock

Model:

Insane Cutz 45 Caps
Insane Cutz 45 Caps


Serving Size : 1Cap
Serving Per Container : 45
BURN BODY FAT. Insane Cutz is a high stimulant thermogenic fat burner formulated to burn body fat while increasing your energy levels at the same time. Worried about preserving those muscle gains during the cutting phase? Don't fret, Insane Cutz is formulated to only attack fat cells. Unlike every other run of the mill fat burner on the market, Insane Cutz is so strong you only need to take ONE serving daily. Paired with an INSANE diet plan, Insane Cutz will help you meet your weight loss goals.

PATENTED ENERGY BOOSTER. What sets Insane Cutz apart? It's the top ingredients on the market. Dandelion Root Extract is proven to naturally promote healthy weight loss and shedding water weight. AMPiberry ties everything together by maximizing and smoothing out all potential energy from the other ingredients.

MAD CHEMIST GUARANTEE. Insane Labz prides itself on the highest quality ingredients to go along with the top products on the market. When you order Insane Labz supplements, you know you are getting an unparalleled product unmatched by any other company out there.

STRONGEST FAT BURNER MONEY CAN BUY. Fat burners often carry the stigma of being overpriced and lesser quality. Not Insane Cutz. Insane Cutz is so strong that you only need 1 serving a day!

Note: This product includes an Insane Labz branded silica desiccant, to absorb moisture and prevent clumping. Keep the desiccant in the bottle until all product is used, to maintain freshness. Keep out of reach of children and do not consume.

Note

: Products with electrical plugs are designed for use in the US. Outlets and voltage differ internationally and this product may require an adapter or converter for use in your destination. Please check compatibility before purchasing.