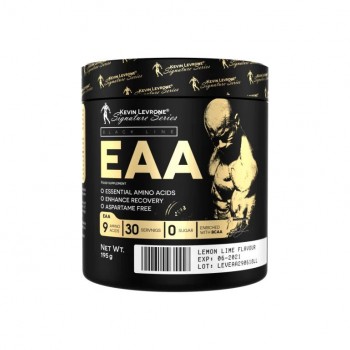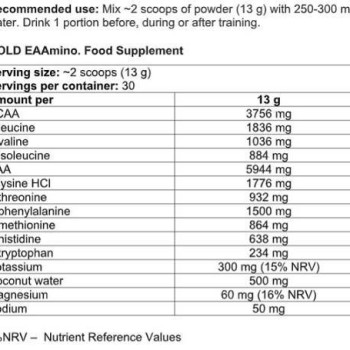 -14 % Out Of Stock


Kevin Gold EAA
Stock:

Out Of Stock

Model:

Kevin Gold EAA
Serving Size : 1
Serving Per Container : 30
KEVIN LEVRON EAA (ESSENTIAL AMINO ACIDS) 390 gr.
GOLD EAAmino. Food supplement. With sweeteners. A product containing essential amino acids (EAA) intended for physically active people.
Benefits
The high content of essential amino acids
Added electrolytes and minerals
Does not contain sugar
0 calories per serving
Increases strength
Reduces muscle loss
improves hydration
improves recovery
Helps increase lean muscle mass
Ingredient
Amino acid mix (L-lysine HCl, L-leucine, L-threonine, L-valine, L-phenylalanine, L-isoleucine, L-methionine, L-histidine, L-tryptophan), potassium citrate, magnesium citrate, sodium citrate, coconut water, flavourings, acidity regulators (malic acid, citric acid), anti-caking agents, sweeteners (sucralose, acesulfame K, steviol glycosides), colours.
Usage
Mix 1 scoop (13 g) Gold EAAmino with 200-300 ml of water. As a food supplement consume 1-2 servings daily, one serving between meals and one serving before bedtime. On training, days take 1 serving before, during or after your workout.