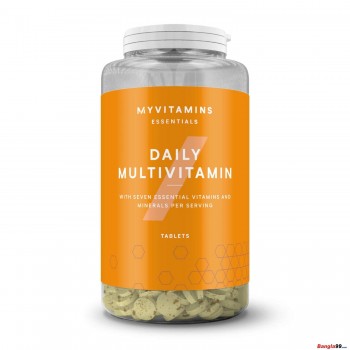 -27 % Out Of Stock
MyProtein Daily Multivitamin 60 Tab
Stock:

Out Of Stock

Model:

MyProtein Daily Multivitamin 60 Tab

MyProtein
MyProtein Daily Multivitamin 60 Tab
Each tablet provides high amount of key vitamins

Great way to increase daily vitamin intake
Vitamins are essential to maintaining overall health and wellbeing, performing many important functions in the body — making it vital you hit your recommended daily requirements.
Although vitamins and minerals are really important for our health, many people aren't getting enough through their diet alone. And, that's where we come in…
What is Daily Multivitamin?
We've packed seven essential vitamins including vitamins A, C, D3, E, as well as thiamine, riboflavin, and niacin into one super-convenient tablet — helping to support your everyday wellbeing while keeping you on top of your game while maintaining your busy lifestyle.1,2
Our Daily Multivitamin is a great addition to your daily diet, whether you're looking to perform in the gym or on the pitch.