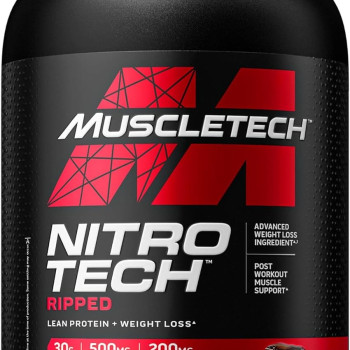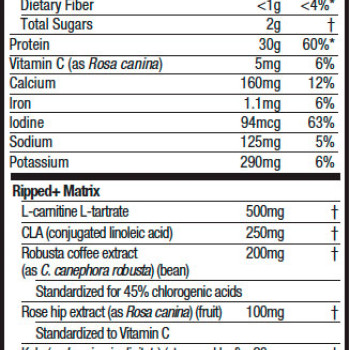 -11 % Out Of Stock


Nitro Tech Ripped By MuscleTech 2lbs
Stock:

Out Of Stock

Model:

Nitro Tech Ripped 2lbs
MuscleTech
Serving Size : 1 Scoop

Serving Per Container : 21
MuscleTech Nitro Tech Ripped Ultra Clean Whey Protein Isolate Powder + Weight Loss Formula, Low Sugar, Low Carb
· 30 gram Of whey protein per serving - 30 gram of Pure Whey Protein, sourced primarily from whey peptides and whey isolate – two of the cleanest and purest protein sources available
· Scientifically tested weight loss - Features the key ingredient,green coffee bean extract, which has been shown in two double-blind, placebo-controlled studies to help subjects lose weight.
· Build more strength than with regular whey protein - Contains a research-proven 3 gram dose of Creatine Monohydrate, which – combined with whey protein – helps to build more strength than regular whey protein.
· Better Macronutrient profile - Doesn't pack the extra sugar and carbs you'll see in other protein powders with only 4 gram of carbs, depending on the flavor, and no more than 2.5 gram of fat
· Cold Microfiltration process to remove more fat, carbs & lactose - Unlike the other guys, we don't use heat, harsh acids or salt our whey protein has been filtered using multi-phase filtration technology for less fat, lactose and impurities than cheaper protein sources.
Serving Size : 1 Scoop
Serving Per Container : 30