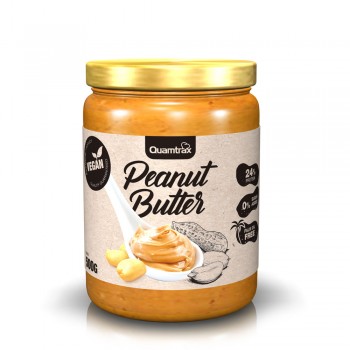 -15 % Out Of Stock
Peanut Butter Quamtrax Nutrition 500 g
Stock:

Out Of Stock

Model:

Quamtrax Nutrition Peanut Butter 500 g
Quamtrax Nutrition Peanut Butter 500 gr
Quamtrax Peanut cream is a sports diet high in unsaturated fatty acids from peanut butter. In addition, peanuts contain more than 25% protein and are high in fiber and suitable for vegans.
Peanuts are full of flavor, so you will understand why Quamtrax Peanut cream is 100% natural and contains nothing but peanuts. Peanuts are roasted and ground into peanut butter.
Quamtrax Peanut cream is a simple and tasty product for the addition of proteins and healthy unsaturated fatty acids - monounsaturated and polyunsaturated fatty acids.
The main advantages of Quamtrax Peanut cream:
25g of monounsaturated fatty acids

15g of polyunsaturated fatty acids more than

25% protein

the only ingredient is 100% roasted peanuts

suitable for vegans