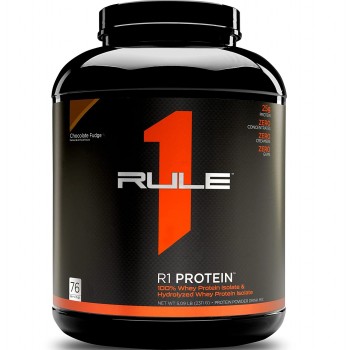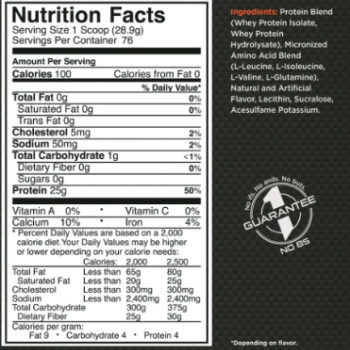 -9 %


Rule One Protein Whey Blend 5lbs
Stock:

In Stock

Model:

rule 1 whey isolate
Serving Size : 1 Scoop
Serving Per Container : 76
Rule One Proteins, R1 Protein - Chocolate Fudge, 25g Fast-Acting, Super-Pure 100% Isolate and Hydrolysate Protein Powder with 6g BCAAs for Muscle Growth and Recovery,


Our Flagship Protein Powder: 25 grams per serving of clean 100% whey isolate, fast-acting whey hydrolysate, over 6g of BCAAs and virtually nothing else.

Super-Pure Protein Sources: super-pure isolate/hydrolysate protein with no whey concentrates, creamers, gums, amino spiking, or other fillers – without sacrificing quality and great taste.

Fast Acting: Whey protein isolates and hydrolysates are great for athletes and body builders who are looking fast-acting Amino Acids for muscle repair and recovery.

Anytime Formula: works well first thing in the morning, pre workout or immediately after workouts, between meals, as a snack, or even a treat.

Clean Manufacturing: Our fast acting, super-pure protein is proudly made in our own state-of-the-art GMP certified facilities in the USA and produced clean, with no banned substances.

A Wide Variety of Sizes and Flavors: Our R1 Protein is produced in 1, 2.5, 5 and 10 pound sizes and in 13 flavors, from delicious basics like chocolate and vanilla to more exotic flavors like White Chocolate Raspberry or Lightly Salted Caramel.

Directions: Add one (1) scoop of R1 Protein powder to one (1) cup (8 oz) of cold water. Stir, shake or blend until smooth.