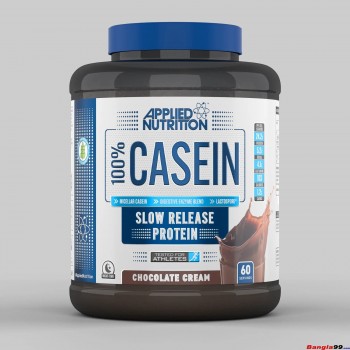 -7 % Out Of Stock
Applied Nutrition Casein Protein 4lbs
Stock:

Out Of Stock

Model:

Applied Casein Protein 4lbs

Applied Nutrition
Applied Nutrition Casein Protein Powder - Micellar Casein Supplement, Slow Release Protein (1.8kg - 60 Servings) (Banana Cream)


IDEAL FOR PRE-BEDTIME: Casein protein powder is perfect to use just before you go to bed. It has time-release protein that can be released into the body for up to 7 hours. This helps refuel your muscles while you sleep.

4 DELICIOUS FLAVOURS: You can order Casein in 4 different flavours - Banana, Chocolate, Strawberry or Vanilla. Pick your favourite or order a couple of options to add variety to your training routine. Micellar Casein is a tasty as it is effective.

HELPS MAINTAIN AND GROW MUSCLES: Micellar Casein protein powder helps to maintain muscle without having to eat before bed. It provides muscle tissue with vital Branched Chain Amino Acids that aid repair and growth in tandem with your exercise routine.

EASY TO PREPARE: Casein nutrition protein could not be easier to get ready. Simply add 2 scoops to water or milk, shake vigorously until it has mixed and it is ready to consume. Minimum effort for maximum results.

TESTED FOR ATHLETES: Applied Nutrition aim to be one of the most trusted sports nutrition brands. This is why Casein bedtime protein undergoes extensive testing to ensure it is safe for professional athletes to use as part of their training programme.