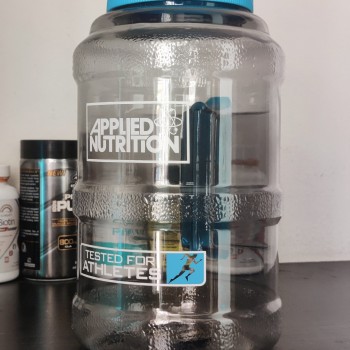 -33 % Out Of Stock
Applied Nutrition Gallon
Stock:

Out Of Stock

Model:

Applied Nutrition Gallon

Applied Nutrition
Applied Nutrition 2,5L Water Jug – Blue Gallon Bottle Water Bottle Water Bottle Fitness Gym Sports (Grey)


The new water bottle from the house of applied nutrition in grey clear with blue lid and carry handle


Because you yes you sports lots of you drink is designed to always in the gym a shaker or a water bottle with you.




It also have the your existing often water bottle too little hold more than you think, and frequently not tough enough and




Need to be replaced with another of a different.




That is why this the new water bottle from Applied Nutrition for relief.




The bottle has a sufficient capacity of 2.5 L and impresses with a cool design.




Also, the bottle is lightweight and versatile, so you not only the bottle during training in the gym but




Can also be found on holiday and for use in the office for versatility.




When the you überfällt can you get him quickly and comfortably drink.




The side handle is comfortable and safe in the palm of your hand.




Moreover, it was the top is made from hard plastic with a hinged screw top lid and crafted so that the tightness




The bottle. Optical Out they're Grey but the clear design out by a




Blue lid and carry handle has been added. It goes without saying, the bottle is BPA (Bisphenol A) free and is ideal




For water which you can deal even powder such as BCAA's.




All highlights at a glance: – 2.5 Litre capacity




- Integrated carry handle to the side




- Well suited for silent cold water




- Perfect for the gym, in the office or on holiday




- Grey Clear with Blue Lid and Carry Handle




- BPA free




Additional Notes:




Not suitable for the dishwasher.




Suitable for cold, calm water use only and not suitable for hot or carbonated liquids.