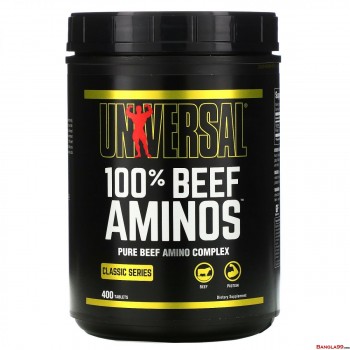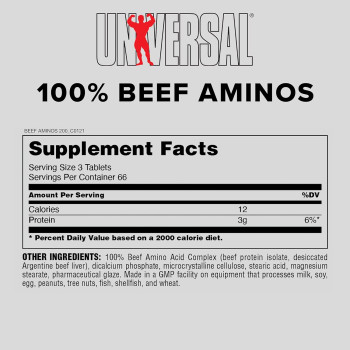 -13 %

Beef Amino by Universal 400 Tablets
Stock:

In Stock

Model:

Beef Amino 400 Tablets
Serving Size : 3 Tab
Serving Per Container : 133


UNIVERSAL NUTRITION 100% Beef Amino 400 Tablets


For use with as a dietary supplement, take 2 tablets with each meal to help increase the amino acid content of the meal or take in between meals to help supply a steady flow of quality amino acids into your body. Daily intake can be increased gradually to 4 to 6 tablets per sitting.

English Name 100% Beef Aminos 400 tabs

Manufacturer Name: UNIVERSAL NUTRITION

Contents: 400 tablets

Ingredients (2 tablets): Calorie 12 protein 0.1 oz (3 g), Vitamin A 25 IU Vitamin C 8 mg Niacin 2.6 mg Vitamin B6 2 mg 100% beef amino acid complex (beef protein isolate, beef albumin concentrate, dessicated Argentine beef liver), dicalcium phosphate. crystalline cellu Lose, stearic acid, magnesium stearate. Keep out of reach of children. Before beginning any program, consult your health care practitioner.