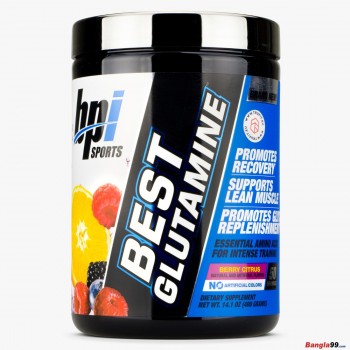 -17 % Out Of Stock


Bpi Best Glutamine Flavored 50 Serving
Stock:

Out Of Stock

Model:

Bpi Best Glutamine 50 Serving

BPI Sports
Best Glutamine Essential Amino Acid For Intense Training, Berry Citrus, 14.1 Ounce


Promotes Recovery - Glutamine helps rebuild muscles and promotes recovery after rigorous training.

Supports Lean Muscles - Glutamine is an amino acid, the building block of muscle. Proper supplementation can help prevent muscle breakdown, so you can build upon your physique.

Promotes Glycogen Replenishment - Glycogen (carbs) is used by your body to fuel intense workouts. By supplementing with glutamine, you promote muscle glycogen resynthesize, which supports your efforts to train harder and longer.

During the summer months products may arrive warm but Amazon stores and ships products in accordance with manufacturers' recommendations, when provided.