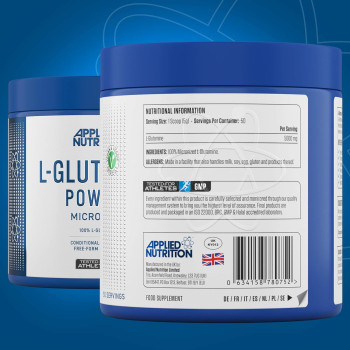 -20 % Out Of Stock


Applied Nutrition L Glutamine Powder 250g
Stock:

Out Of Stock

Model:

Applied Nutrition L Glutamine Powder 250g

Applied Nutrition
Serving Size : 1 Scoop
Serving Per Container : 50


Applied Nutrition L Glutamine Powder - Amino Acid, Muscle Strength & Recovery, Boosts Immune System, Unflavoured (250g - 50 Servings)


PURE PHARMACEUTICAL GRADE GLUTAMINE POWDER: Every ingredient and batch used in L Glutamine is rigorously tested for banned substances to make sure they're safe for athletes to use after exercising or training.

THE MOST ABUNDANT AMINO ACID IN MUSCLE TISSUE: Anytime you train or exercise, your glutamine levels can significantly go down. With L Glutamine Powder, you can replenish yourself quickly and easily and get your glutamine levels back up.

CONDITIONALLY ESSENTIAL AMINO ACID: Glutamine is naturally occurring within muscle tissue but breaks down when you train. Our L Glutamine Powder lets you restore your Glutamine levels after exercising and contributes to muscle growth.

HELPS BUILD AND REPAIR NEW MUSCLE: Supplementing with L Glutamine is a great way to reach your fitness goals. It is one of the most popular amino acids and is naturally found in protein.