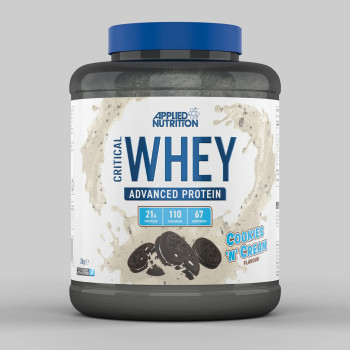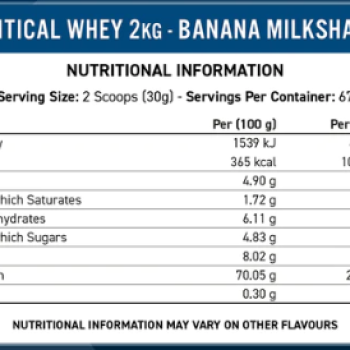 New -13 % Out Of Stock


Critical Whey By Applied Nutrition
Stock:

Out Of Stock

Model:

Critical Whey By Applied Nutrition

Applied Nutrition
Serving Size : 1 Scoop
Serving Per Container : 67


Applied Nutrition Critical Whey Protein Powder 2kg - High Protein Powder, Protein Milkshake, Muscle Building Supplement with BCAAs & Glutamine


BUILD & MAINTAIN MUSCLE: Applied Nutrition protein powder is an excellent way to build up your muscles when you do strength training. Protein is an essential part of your diet to help maintain muscle mass, so drinking the shake as recommended will help you to retain your muscle development.

EASY TO PREPARE: This high protein powder mixes incredibly well with water or low-fat milk. You can shake it up when you are running late or on the go in no time.

INFORMED-SPORT CERTIFIED: 6 flavours of Critical Whey are batch tested and accredited by Informed Sport, a global quality-assurance programme for sports nutrition products which independently test supplements for all substances listed on the World Anti-Doping Agency (WADA) banned substance list. Certified flavours: Banana, Chocolate, Lemon Cheesecake, Strawberry, Vanilla, White Chocolate Raspberry.

VARIETY OF FANTASTIC FLAVOURS: You can pick from multiple available flavours for your protein milkshake. Never again will you have to drink tasteless protein supplements.