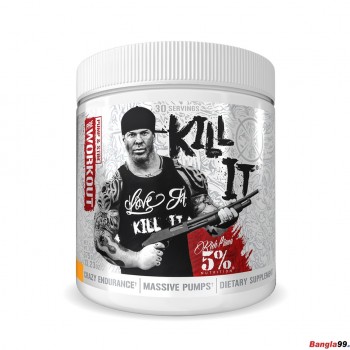 -17 % Out Of Stock
Kill IT Pre Workout By Rich PIana
Stock:

Out Of Stock

Model:

kill it pre workout
Rich Piana 5% Nutrition Kill IT Pre Workout Powder w/ Creatine, Jitter-Free Caffeine, NO-Booster, Beta Alanine, L-Citrulline for Focus, Pump, Endurance, Recovery 13.23 oz, 30 Srvgs (Fruit Punch)


FOCUSED ENERGY, POWER, & PUMPS: KILL IT combines neural enhancers with a moderate dose of jitter-free caffeine, creatine, and pump supplements for athletes who want fewer stimulants while retaining the superior performance benefits of 5% elite formulations.

ENHANCE PERFORMANCE & ENDURANCE with 7.5 g of NO/Endurance Blend, featuring Beta Alanine, Taurine, AgmaMax Agmatine Sulfate, N-Acetyl L-Tyrosine, COPMax Creatinol-O-Phosphate, Caffeine, L-Norvaline and Rhodiola Rosea (Extract). Get an insane pump and crush your workout!

REDUCE MUSCLE FATIGUE & RECOVERY TIME with our exclusive 1.5 g Tri-Creatine Blend, combining Creatine MagnaPower, Creatine Monohydrate, and Creatine Pyruvate to provide unparalled strength, endurance and muscle hydration so you can power through your gym session.

FOCUS with NOOTROPIC COGNITIVE ENHANCERS. Rhodiola Rosea Extract and N-Acetyl L-Tyrosine help you tune into your core motivations and fuel the mind / muscle link needed to hit your daily goals.

FRUIT PUNCH is berry good in our opinion. Try the rest of our flavors (Blue Raspberry, Push Pop, Lemon Lime, Mango Pineapple, Blueberry Lemonade, and Southern Sweet Tea) too!