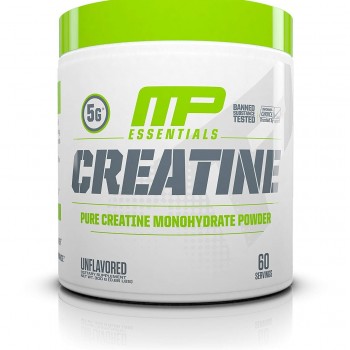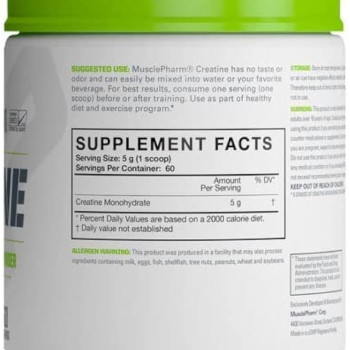 -18 % Out Of Stock


MusclePharm Creatine 300g
Stock:

Out Of Stock

Model:

MusclePharm Creatine 300g

MusclePharm
MusclePharm Essentials Micronized Creatine, Ultra-Pure 100% Creatine Monohydrate Powder, Muscle-Building, 60 Servings
Serving Size : 5g
Serving Per Container : 60
STRENGTH AND POWER AMPLIFIER: MP Essentials Micronized Creatine powder is comprised of clinically researched compounds that work together to increase muscle strength and power for improved performance.

IMPROVES ATHLETIC PERFORMANCE: Creatine powder has been used by professional athletes and workout enthusiasts for years to build muscle mass and reduce recovery time from workouts.

PROMOTES INCREASES IN STRENGTH & LEAN BODY MASS: Creatine Monohydrate works to restore muscular energy levels lost during exercise. This results in increased power, strength, and lean body mass.

BANNED-SUBSTANCE TESTED: We care about the products you put into your body. MP Essentials Micronized Creatine powder is banned-substance tested and certified by Informed-Choice.

100% MONEY-BACK GUARANTEE: All MusclePharm products are backed by a 30-day full money-back guarantee.