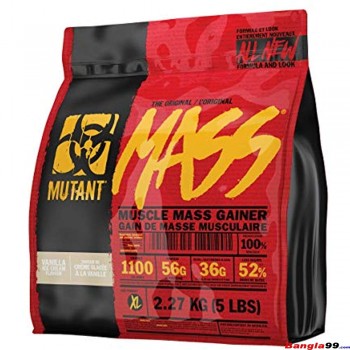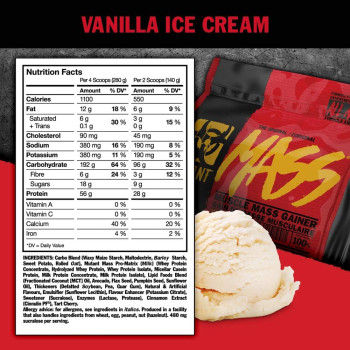 -20 % Out Of Stock



Mutant Mass Weight Gainer 5lbs
Stock:

Out Of Stock

Model:

mutant mass 5lbs

Serving Size : 2 Scoop
Serving Per Container : 166
ENHANCED GAINER SUPPLEMENT | Mutant's most popular weight gainer supplement is packed with BCAAs/EAAs and waxy maize to help with growth and bulking.

PROTEIN CONTENT | It offers 1100 calories per serving plus 56 g of quality protein from whey isolate, concentrate and casein blend.

Made with Natural Whole Foods | Made from natural whole-foods to include barley, sweet potato, rolled oats, avocado, coconut oil, flaxseed, pumpkin seed and sunflower oil.

LEAN GAINER | Our Mass has 56 g of 100% pure protein, 192 g of clean carbs with 12 g of fat plus naturally present 26.1 g of EAAs and 12.2 g of BCAAs.

GOURMET TASTE | Engineered in our own state-of-the-art manufacturing facility to maintain gold-standard quality and it comes with a great Gourmet taste.