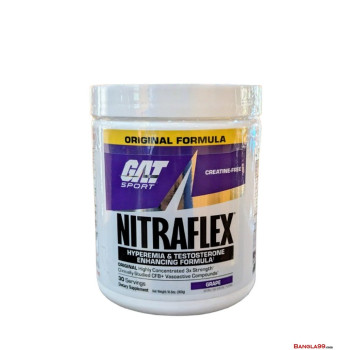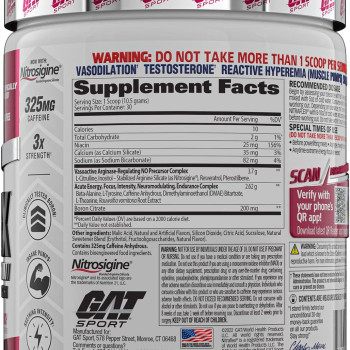 -20 % Out Of Stock


NITRAFLEX Pre workout By Gat
Stock:

Out Of Stock

Model:

Gat NITRAFLEX

GAT Sport
Serving Size : 1 Scoop
Serving Per Container : 30


GAT Sport, NITRAFLEX Increases Blood Flow, Boosts Strength and Energy, Improves Exercise Performance, Creatine-Free (Fruit Punch, 30 Servings).


testosterone within 3 hours of a single dose equivalent to just over 2 scoops of Nitraflex.

INCREASE BLOOD FLOW AND ENERGY: This clinically tested, high-intensity pre-training formula has potent ingredients to help magnify energy, alertness, strength, stamina, pumps and free testosterone during workouts.

CREATINE-FREE, IDEAL FOR PRE-CONTEST PREP AND LEAN MUSCLE: Creatine causes water retention, which can make achieving a dry, hard muscular look even more difficult, so we left it out. NITRAFLEX is ideal for pre-contest prep and lean muscle physique.

BOOST BENCH PRESS STRENGTH IN 2 WEEKS: Increase bench press strength up to 10 lbs in just 2 weeks. Potent ingredients will increase energy for each workout while increasing strength.

INCREASE INTENSITY OF WORKOUT WITH MORE ENERGY: Contains unique ratios of compounds that help you remain alert, intense and focused while you're flying from set to set with veins fully dilated and muscles pumped to the extreme.