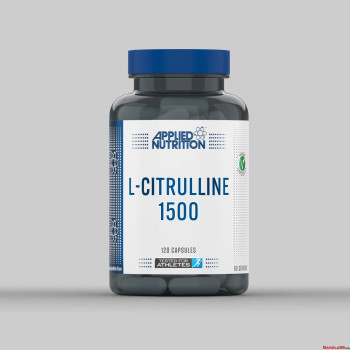 New -17 %
Applied Nutrition L Citrulline 120 Tab
Stock:

In Stock

Model:

Applied Citrulline 120 Tab

Applied Nutrition
Applied Nutrition L-Citrulline 1500-1500mg L Citrulline Per Serving, Citrulline Capsules for Muscle Pump, Muscle Recovery Supplement, Increases Levels of L-Arginine and Nitric Oxide - 60 Servings


BOOSTS NITRIC OXIDE: Applied Nutrition's L-Citrulline supplements are designed to boost a chemical called nitric oxide in the body. Nitric oxide plays an important role in maintaining good cardiovascular health. Each serving contains 1,500 mg L-Citrulline (2 capsules).

IMPROVES BLOOD FLOW: Nitric oxide supplements can help arteries relax and work better, which in turn improves blood flow around the body.

USEFUL FOR WORKOUTS: Thanks to helping boost blood circulation, these are useful recovery supplements following a workout. By increasing nitric oxide levels and L-Arginine in the body, these pump supplements could also aid muscle recovery.

CAN ASSIST WITH FATIGUE: If you've been struggling with fatigue and endurance problems during workouts, taking nitric oxide supplements could see reduced symptoms. This means you'll have more energy for your workouts, helping you to get fitter.